---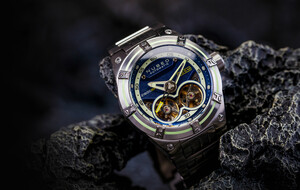 Modern Watches That Wow
Fine Timepieces & Accessories For A Lifetime Of Wear
It's Time To Bring Function And Fashion Together
You've got style. You've got confidence. But what about a watch? Because we're wild about watches and we want the whole world to know about it. Whether After all, we can't think of another accessory that is equal parts function and fashion. From classic brands like Rolex, Omega, and Patek Philippe to contemporary makers like Apple, TAG Heuer, and Breitling, there is a watch for every man's style and budget.
Put Your Best Wrist Forward
We don't need to tell you what a well-made watch can do to boost your style profile. We also don't need to tell you that choosing the right watch is more than just a pop of style and serotonin. A watch can tell those around you whether you're a classic gentleman or a more modern man. Your watch can tell the world whether you value style for style's sake or you're someone who is in it for the long haul. Simply put, the watch you choose can make a lasting first impression.
Not Just Another Pretty Face
A quick flip of the dial is very revealing when it comes to the movement. A mechanical movement will reveal a marvel within. Ticking away at 28,800 vibrations per hour, it's 100+ tiny parts are all meticulously crafted, polished, and placed with care by those who have learned from generations of legendary watchmakers. Watch with wonder as this miniature machine ticks away the minutes.
An Affordable Option? Of Quartz!
A quartz movement is altogether different from a mechanical movement. This more affordable option is definitely the workhorse of the watch world. Just replace that battery and your quartz watch will keep on ticking without needing your attention. And that price tag allows you to select a variety of styles that match your mood and your ensemble. So what are you waiting for? Pick a timepiece that will make a lasting impression. Seriously, it's time.